Loving Touch Connection® > Braille Salt and Pepper Shakers - Christmas Ball Ornaments

Braille Salt and Pepper Shakers - Christmas Ball Ornaments



| | |
| --- | --- |
| Price: | $16.50 |
| Availability: | Made to order |
| Prod. Code: | 923 |
| Tags: | Salt & Pepper Shaker Sets (Christmas) |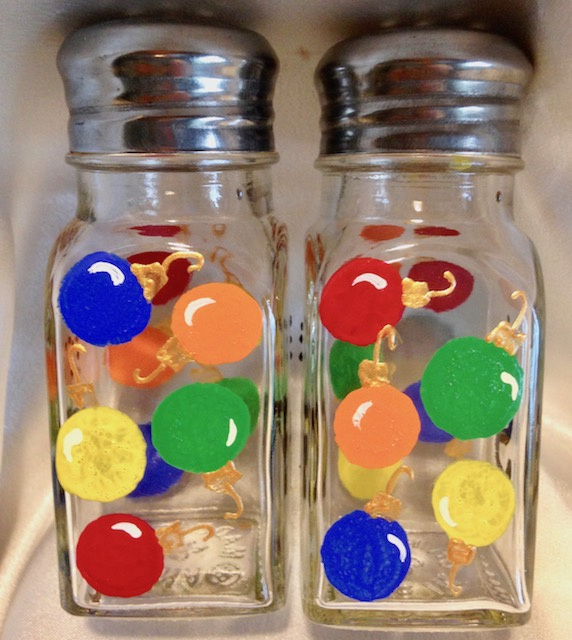 Braille Salt & Pepper shaker set with Christmas Balls Ornaments design. Various color Christmas balls (red, blue, yellow, green and orange) with gold hanger on each ornament. So festive for your holiday table. Great hostess gift, too!
Design is on two sides of each shaker, with the letter S or P in raised-dot braille and large script on the other two sides. Easy to identify which is which!
Hand painted with enamel paint, then baked to fuse the paint to the glass for durability. Handwashing recommended.
Shakers are 4" high X 1 1/2" wide- square with silver screw top. They have the same amount of holes in each shaker top.

I wish you a blessed and magical day!
"The purpose of life, is to have a life of purpose" -- Robert Byrne
**Customers within 20 mile radius of Allentown, PA, please e-mail me (Kathy@TouchedbyFantasy.com) for direct shipping/handling alternatives**
http://www.facebook.com/TouchedbyFantasy/
http://www.facebook.com/lovingtouchconnection/
https://www.etsy.com/shop/TouchedbyFantasy
Payments by Money Orders are welcome: PO Box 153, Macungie, PA 18062
Copyright © 2020 Masters Holdings, LLC, All Rights Reserved