Thank you to my awesome customers for taking the time to send me great comments about their purchases!
---
"My wife absolutely loved the gift of the Cottage mailbox. All the little details and windows and doors on all sides. So unique and beautiful. The thank you inside the door is great Thank you so much. And believe me I will look your way again when other special events come up!"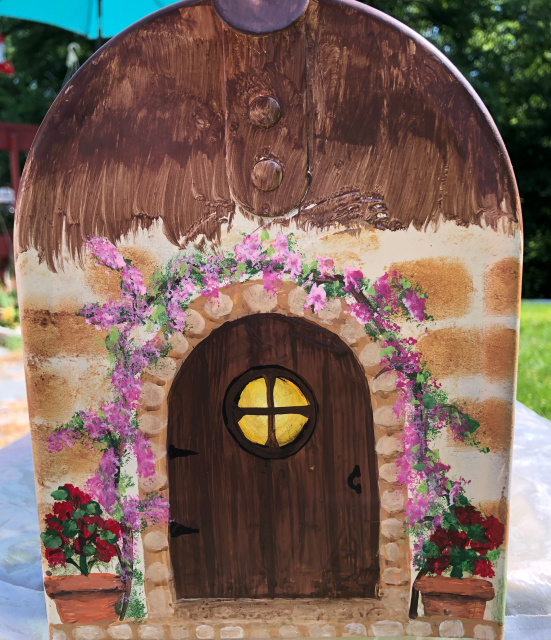 Joe
---
"I can't tell you enough how impressed I am with your fine work and artistry. Usually, when I see tactile braille embossed on an object, it is never true to size. I've seen raised braille on wine bottles
that was almost impossible to decipher because it was so large and disfigured, or braille on T-shirts that was extremely faded or inaccurate in its construction. You were able to truly capture the exact size, placement, and consistency of the braille dots. These pieces are absolutely beautiful. I'm sure my best friend will love her gift!"
Melissa C.
---
"The mug was well received and the personal communication, speed and thoughtfulness by Kathy was unparalleled to any other buying experience in recent memory. I highly recommend and I'd give 10 stars if I could."
Mike
---
"I gave the mug to my blind friend and she absolutely went crazy over it. It's so hard to surprise her or get her excited about almost anything. She kept saying it has my name on it, it has my name on it! And it's so beautiful she could even feel the raised painted flowers on it in the heart. Thank you so much for an excellent product!"

Julie H.
---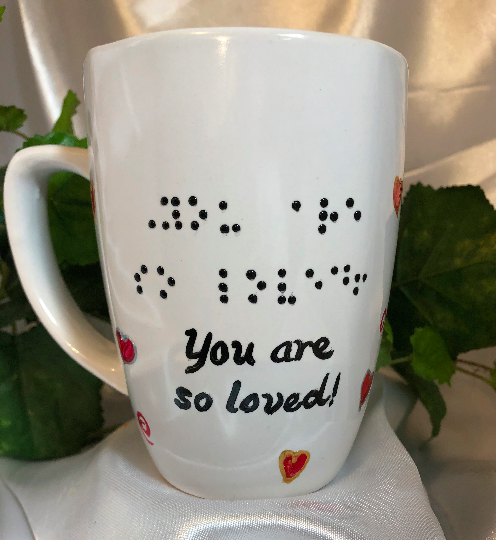 Manuel
---
The man and his wife (both of them have blindness) that we gave the gifts to loved them especially the treat jar with the name of his service dog on it. They were touched by the gifts and impressed by the work you did. Glad to have found you on Etsy.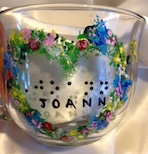 Josephine
---
"This is an absolutely beautiful mug. The craftsmanship is perfect.I will definitely purchase items again."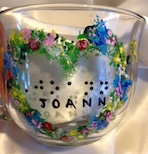 Deborah S.
---
"I received my spice jars and I love them. They fit beautifully in my spice cupboard. Thank you! Your artistic talent, creative thinking, and kindness has been a blessing to me."
(Set of spice jars with braille - custom choices of spices)
LIsa H.
---
"My husband delighted me yesterday with the salt and pepper shaker set that you created and sent to him on my behalf. He also told me today of your follow-through and your offer to make the custom card for me. We've had the same set of salt/pepper shakers since far before our marriage from my parents; I could not distinguish without sniffing them and making myself sneeze, so the cheerful birds and the "S" and "P" will make all the difference in the world on our dining room table. Thanks for a great product and keep up the good work."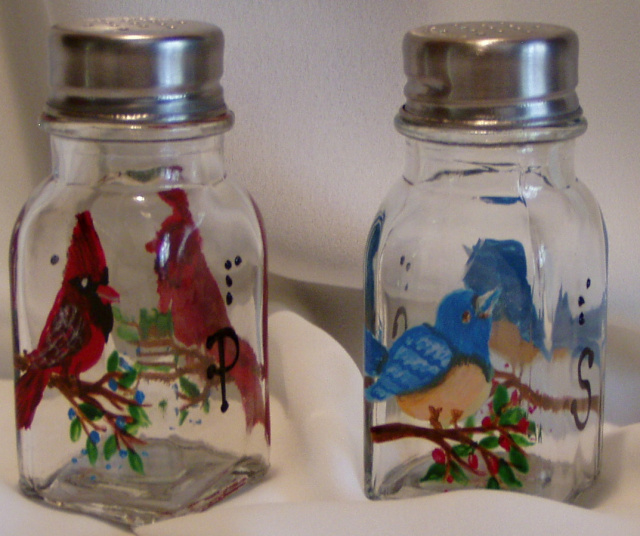 Elizabeth
---
"I recently received one of your decorated dog treat jars from my friend. I loved the jar and receiving a braille message in the card. Your braille message in the card was very readable."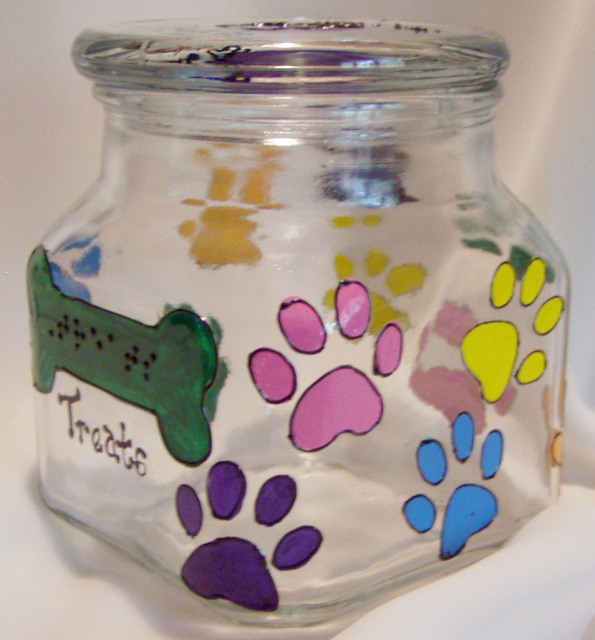 Dana
---
"Absolutely love love love the ocean mailbox - Excellent experience!"
Debbie
---
"Hi Kathy-- Just opened the glasses. I LOVE THEM❤️! They are exactly what I had in mind!! Absolutely perfect! And I love the rhinestones- very classy! Thank you so very much for using your talent to help me give a unique gift to a dear friend."
!
Debbie B.
---
"Kathy- he loooooved his special glass!!! Over the moon! Thank you for all the special detail in Pete's "All About Me!" glass! It is unbelievable!"
Kathi P.
---
"She LOVES it! Thank you!! She has it beside her kitchen door where she will see it all the time."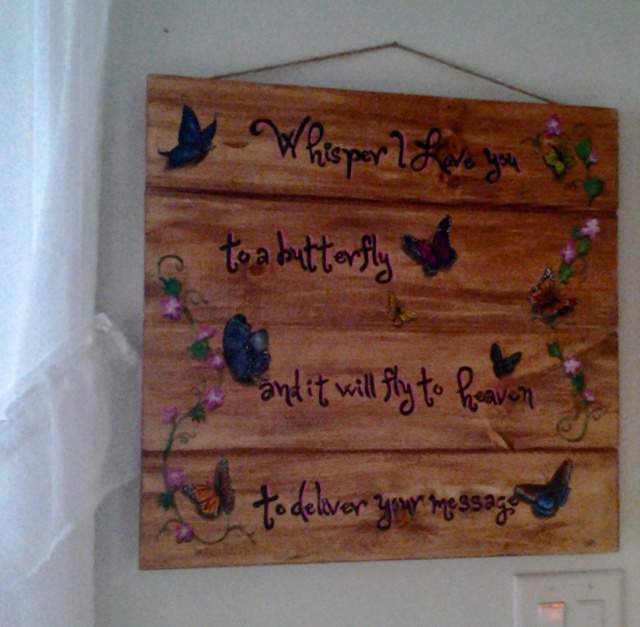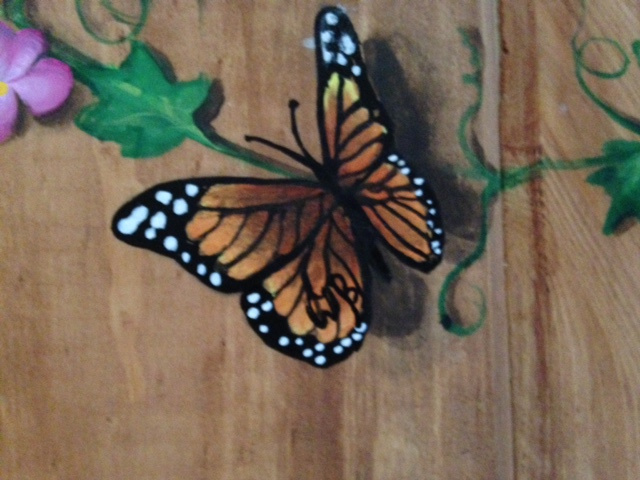 Wendy
---
"Hi Kathy, The boxes are here! I opened one and it looks beautiful. I can't wait for the teachers to see them. I know they are going to love them!
Thank you so much for all your hard work and professionalism. I will definitely pass your name out to anyone looking for a unique gift!"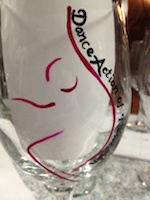 Michelle
---
"Dear Kathy, I opened the box this morning and they are beautiful!! I am extremely happy with them and I am excited to give them to my friends today :)
You do beautiful work. Thank you so much!"
"Update:

They were able to read the mugs very easily and they absolutely loved them! "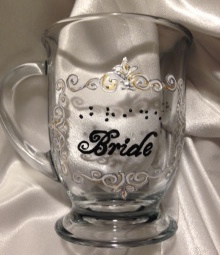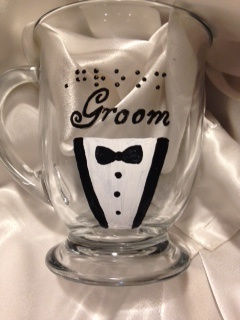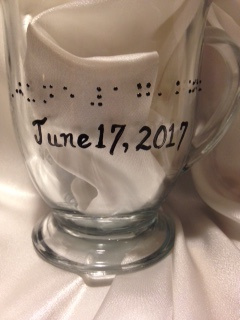 Shannon
---
"My daughter, Lindsay May Larsen and Bob Larsen just got married on January 21, 2017. We wanted to give them a gift celebrating not only their marriage, but their new business brand, Phoenix Athletica. The Phoenix is very significant to both Lindsay and Bob's determination, stamina and desire to "rise up" from the ashes and succeed in their quest to help others through personal fitness and nutrition. Kathy Keck did a beautiful job in capturing their Phoenix Spirits on these champagne glasses she painted for them and me! Take your personal designs to Touched by Fantasy Design! Kathy is creative, professional and is awesome! Thanks, Kathy, for making Lindsay and Bob's wedding day even more memorable!! You ROCK!!"
Mary Frances Frabotta
---
"My son was speechless!!!!! It is everything I had hoped for and more! All the people that have seen it cannot believe the incredible detail!!! Thank you Kathy"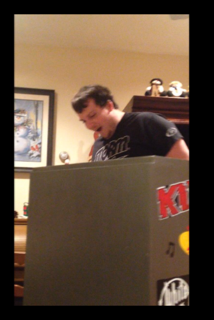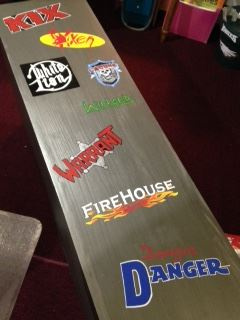 Denise
---
"We were all so excited for pop pop to open his birthday presents.
He loved them & yes a little tear
Thanks Kathy Keck (Touched by Fantasy Designs) he loved the paintings"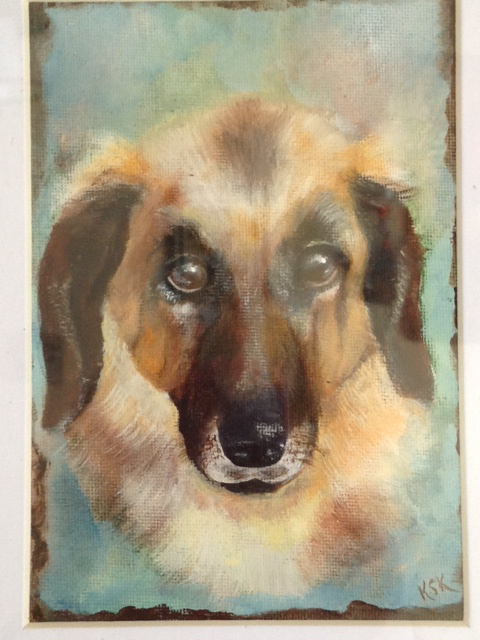 Peggy
---
"Kathy thankyou so much it brings tears to my eyes -- it looks so much like her..I miss her a lot..and I know my husband will just love this glass..Again, thank you so much.. I still cannot get over how much it looks like her..you out did yourself this time..I mean all your work is outstanding but this has to be the one I love the most."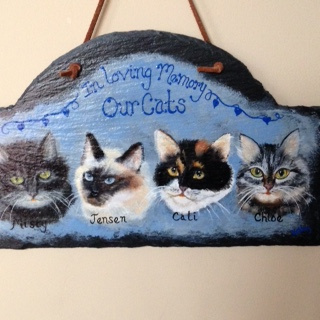 Follow up: Kathy I justed wanted to let you know that my husband loved the glass & the slate plaque of all of the cats – when he opened it up we both started to cry..it was very emotional, he said it was like looking at them for real..he couldn't get over how much the paintings looked so life like..
He was really pleased w/it & had to find a place to hang it up right away..we have her glass next to her ashes..I just wanted to say thanyou so much for the beautiful work you do..
Michele
---
"Hi Kathy! He loves it!!! He was able to read everything that you put on it. His sighted friends who were here for his party loved it as well. Thank you so much again!!

Braille "All About Me!" Glass- for a husband's 40th birthday.
Brenda H.
---
Johna G. Pittsburgh, PA
---
David P
---
"More than wonderful has been my personalized items created by Touched by Fantasy Designs! In addition, the expedient service and kindness has been a true blessing. Ever so thankful for having made our connection with Kathy! She has a marvelous gift from God."
Renee
---
"Oh, Kathy- That is Maddie and Sam exactly. They are beautiful. You got Sam's look, and Maddie's brown nose...perfectly. He cried when he saw Maddie on the glass..he loved them.
Thank you so very much."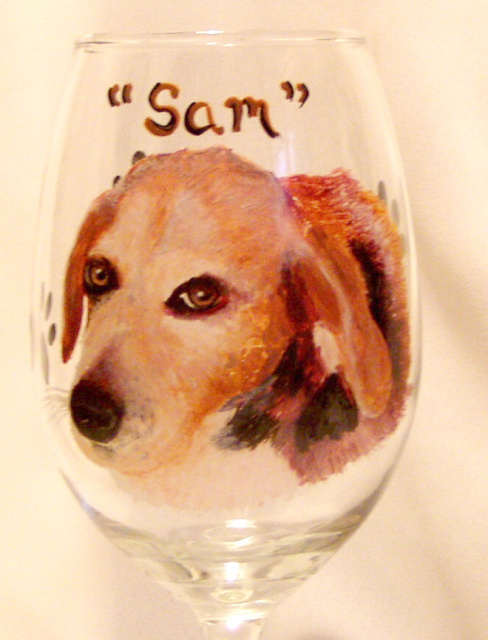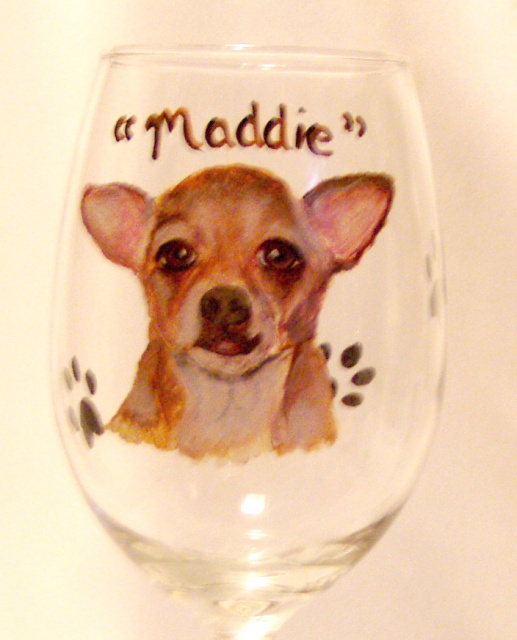 Deb P.
---
"Hi Kathy,
Absolutely beautiful! You really did a wonderful job!! Everything looks great, Thanks again Kathy!"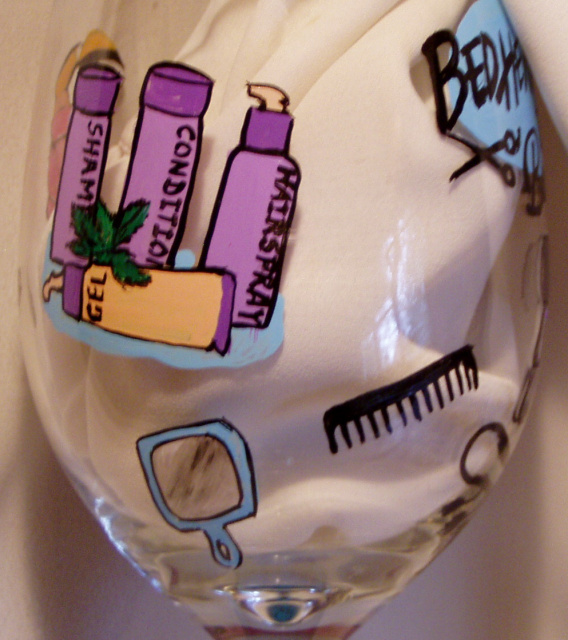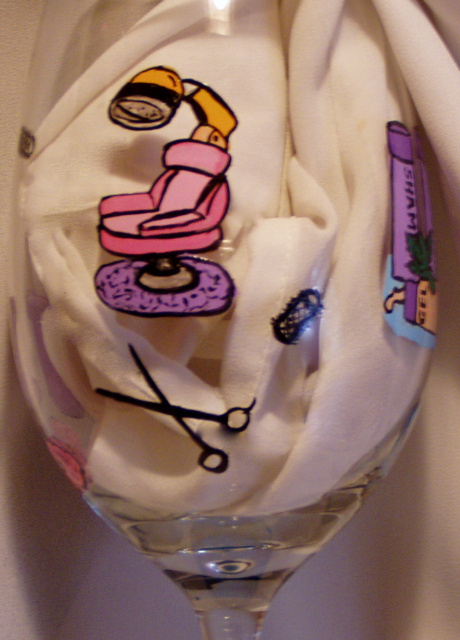 Heather
---
Hi, Kathy,
I am writing to let you know that your Silent Auction item for our Chrysalis Dinner is absolutely gorgeous! The wine glasses and decanter just beg to be admired and enjoyed!

Sincerely,
Karen

Karen Z. Huetter, Development Director
Center for Vision Loss
Karen
---
Kathy,

It is perfect, she will love it! Thank you very much! You put a lot into that and your work rivals any in the stores!
Deb
---
Kathy- She LOVED the planter! She was so excited when she recognized that it was her wedding flower on the pot! Thank you so much!
- Karen
Karen
---
Kathy, Just had to tell you how much our friends loved their special glasses! They couldn't stop commenting, and the husband is an art teacher, so that says a lot, too! You took the concept in my mind and created the perfect gift! Thank you so much for creating such a cool set of glasses!
Lori
---
Kathy,
They all loved them. Thanks again. I will get back to you because I do want to get myself one to match my team. I will email you after the new year. Happy New Year!

Lisa
Lisa C.
---
Kathy,

I love them!!! Can't wait to see them in person. Thank you so much!
Tara
---
Hi, Kathy

I received a gift from Wendy that you made (slate with fall theme and Ecclesiastes verse). It is beautiful and so unique! Thank you! It will be enjoyed by my husband and myself for many years to come!

Thanks again,
Ashley
Ashley
---
Kathy, working with you to create a special mug for my Pastor has been such a wonderful experience. I had been searching for a long time to find someone to do the Braille the way you did. I really could not be more pleased and can assure you I'll be a returning customer. Thank you for making my gift so special.

Marana
Marana, Simi Valley, CA 4/2013
---
Thank you again Kathy for the amazing job you did creating a wine glass for my dear friends special birthday. You took my ideas and put in artform that worked perfectly. Just enough information without being cluttered. By the way, SHE LOVES IT!!!!! The other guests loved your work as well and took one of your cards. I will definitely be purchasing your products again. Thank you!
Heidi, Bethlehem, PA Mar. 2013
---
Dear Kathy,
Your package arrived earlier in the week and I LOVED the cup. The braille was wonderful and I could even read Preston's name in the print above the braille. I could tell that the design was Preston's head. Last night some friends were here and admired my cup. I'd like to order 2 cups for a couple for Christmas, but I haven't figured out what picture to put on them. By the way, I don't remember if I told you that the braille on my cup was very good.
Louise C. Braddock, PA Nov. 2012
---
Wow! that was fast!! OMG! I LOVE IT!! Thankyou so much…It's perfect just the way it is..now I have a glass w/bling!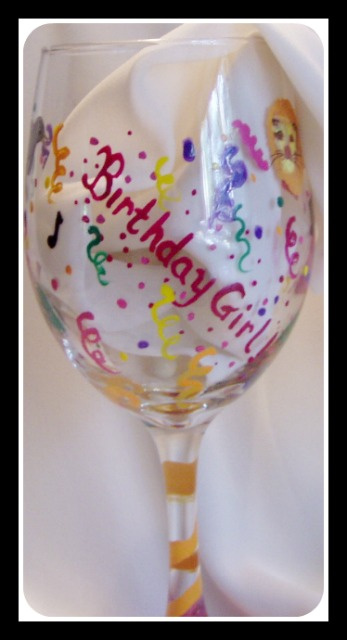 Michele D. Allentown, PA Sept. 2012
---
They look georgeous... I Thank you a thousand times for getting them done before the bridal shower!! :)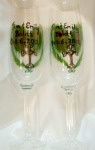 Millie M, New Tripoli, PA, Sept. 2012
---
HI Kathy,
Elaine called me as soon as the glass arrived. She was so surprised and excited to be able to read the glass on her own.
Thanks, again,
Jeanette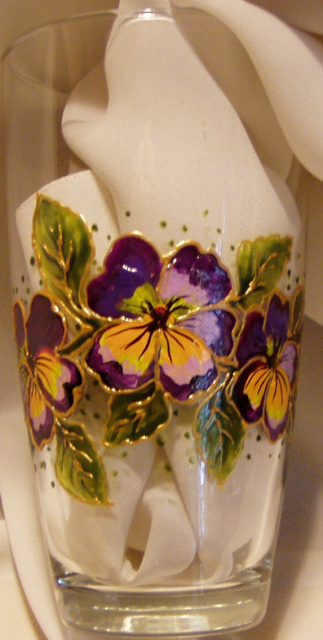 Jeanette S. Pittman, PA May, 2012
---
Lorie on December 24, 2011

Kathy created a lovely mailbox that I gave to my Mom for Christmas. She did a very nice job, prepared it in a timely manner at reasonable cost. I definitely would recommend her work for anyone looking to purchase creative, personalized gifts. Thanks Kathy, I will contact you again when I need another mailbox creation completed.
Lorie (PA) Dec. 2011
---
Dear Kathy,
To introduce myself, Lorie's Mom here. Did I like the mailbox is an understatement. How truly blessed you are, your artistry, vision & attention to detail is positively awesome, as in the heart shaped opening of the bird house and the creeping vines around the house numbers. Can't wait for nice weather to appear to have it placed outdoors to show off your beautiful creativity. Soon, I will have the prettiest mailbox in my neighborhood rather than the ugliest.
Thank you so much for the time & effort you put into Lori's Christmas gift for her Mom. Your work is truly a labor of love.

Sincerely,

Sonia D.
Sonia D. on Jan. 5, 2012
---
I was so rushed last night prior to leaving for work that I missed out on telling you that I received your package and was pressed for time so couldn't open it but left me w/such excitement to get home and open it this am and my mouth dropped….YOU ARE AWESOME!!! I LOVE THEM!!! What a smile you gave me, b/c you know how wonderful it is to give that perfect gift, and I know they will be ecstatic about them!!! Thank you from my heart!
Follow up:
Daniel LOOVED the glasses and I even got a txt from his lovely bride telling me how much they love them. Nikki so loved her leopard glasses and said she's placing them in her display/china cabinet for everyone to see, no-no using, just looky-looky as she is keeping them safe. Norma and David Loooved their glasses, go LSU!! Thought they were awesome!!!! Vicki and Debbie went craaaaazy over theirs and I am sure are using them already.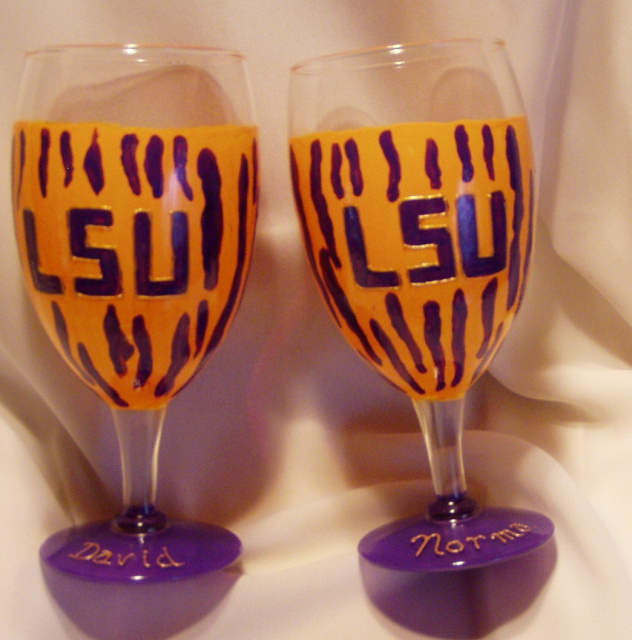 Kristin (TN) Dec. 2012
---
Kathy, they loved their gifts! The glasses were his favorite. My parents loved their gifts. I may be ordering matching glasses at some point. They were just so beautiful. Thank you so much.
Sonia V. (PA) Dec. 2011
---
Hi Kathy,
Well, my glasses arrived today and they are too cute!! Thank you for the professional wrap and nice note -- what a professional!! It was fun waiting for them and then unwrapping the gift; I was just like a little kid at Christmas. I washed them and set them out with my other pumpkin glasses and will use one tonight when I have my glass of wine with dinner!
Thanks again, and it was such a pleasure doing business with you. I will keep in touch.
Linda
Linda (CA) Sept. 2011
---
The mailbox arrived quickly and it's perfect. It was a gift for my mom that I bought for Christmas but it is so adorable that I already gave it to her. She loves it!
Marie (CO) Aug. 2011
---
I love the glasses!!! They are absolutely beautiful. I will give them to her for her birthday, 9/8/12. I am sure she will love them too. Thanks so much. I am thinking about some Christmas gifts. I will let you know.
Bibi S, Allentown, PA, Aug. 2012
---
I just got the "Watta Melon" martini glasses and the are absolutely fantastic! I love them!! I love the glass design and I love the painting on them. I appreciate your help on this. Thanks, Tara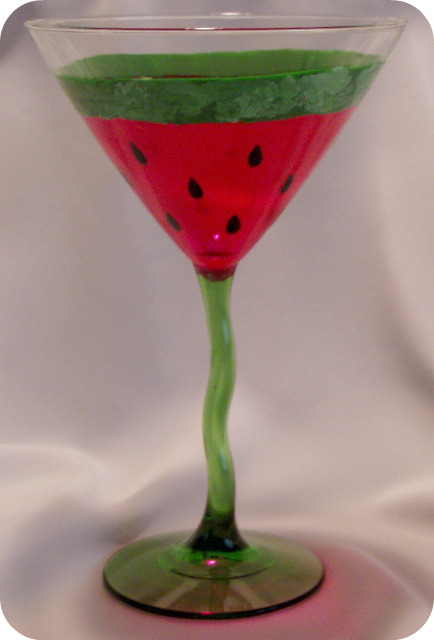 Tara (IN) July 2011
---
The mailbox arrived in perfect condition. Waiting to give it to my son for his house. I love it and I am sure they will too!
Pam (VA) on July 11, 2011
---
Kathy Thank you so much for making the mardi gras wine glasses. You did a really great job on them and you added everything to the glasses that I asked and more. My nurses loved them so much and we have everyone asking where did we get them from and how nice the glasses look thanks a million ... Whitney and Cedarbrook staff
Whitney (PA) Apr. 2011
---
Joseph Stetch, Stetch & Sons Painting on February 7, 2010


Hi Kathy,
Thank you for the work you did for me at Lehigh University at Packer Chapel. The fleur de lis which you painted are very professional and match beautifully with the church's archetecture. I thank you for a job very well done.
Joe Stetch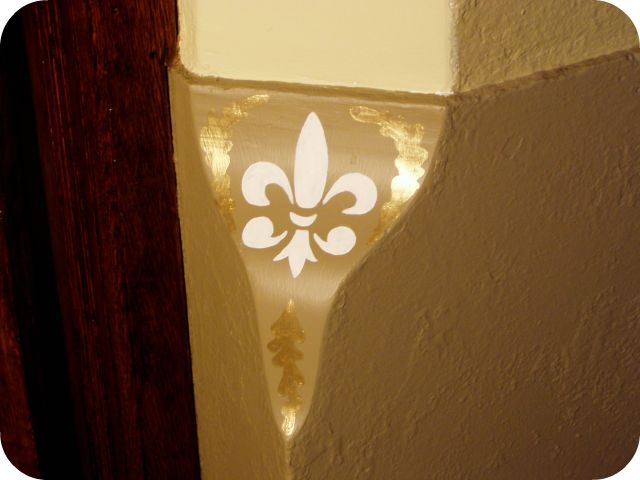 Joe Stetch
---
Kathy, I can't thank you enough for the beautiful mural in my powder room! The open window onto the ocean with the sunrise and the special kitty on the windowsill is just what I imagined. The corresponding porthole window with the lighthouse is exactly the scene I envisioned. Your use of shadowing and lighting makes it look so realistic. Guests have commented so excitedly when I've shown them your work and I have passed on your contact information to everyone-- the end result was more than I had hoped for. I really enjoyed meeting you and thank you so much for working within my budget and timeline to create my little "room with a view"!
Carol
---
Kathy,

I wanted to thank you for the amazing planters. Our parents were amazed to see their grandchildren's photo's on a planter. We will be in touch, I have no doubt we will be a return customer.

Thanks again!
Kim S. (PA) Dec. 2010
---
Kathy--I want to thank you for the awesome wine and pilsner glasses you did for my friends. I was at a loss for the "perfect" Christmas gifts for them. All the info you needed was that one couple are big football fans, and the other couple enjoys camping, the names of each person--and they ARE perfect! They are so nicely done! I'm so excited to give personalized gifts this year! I know they will love them. Thanks for doing them on such short notice. I will be sure to let you know how they liked them.
Dawn D. (PA) 2010
---
I want to thank you for designing custom wine glasses for our employees for Christmas. I called with a short window for delivery and it was met and delivered in time for Christmas. I gave Kathy each girls name and a theme for their personalized wine glass and they were created to a "T" to fit the employee's personality; and custom wrapped also!!!!! One glass had shoes on it; one had purses; another had a lepoard print, another lingerie, another jewelry,....whatever I requested, it was done. The girls loved the glasses and I loved the prompt and professional service that you offered and delivered. We are now carrying some of Kathy's creations in our store and are taking orders from our customers that see us using these beautiful glasses daily!! Thanks again for the great service and outstanding artwork!!!! We will be calling again.

Karan Merkel
Owner
"Girlfriends Boutique"
Main Street Commons Bldg
Garden Level
Bethlehem, PA 18018
610-807-9600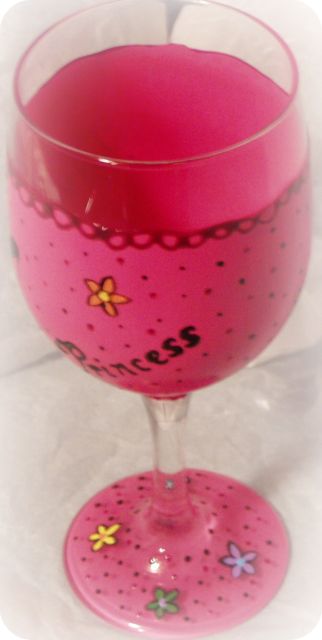 Karan
---
I discovered your hand painted glasses at a craft show and purchased the "fall harvest" wine glasses. Your website showed some other beautiful ones that focused on the Christmas holiday. I knew they would be perfect as gifts. Thank you for your attention to detail and for giving me ideas about the way you could wrap them. The glasses along with a bottle of wine & wrapped so beautifully are awesome. I will definitely recommend your work and will be calling on you in the future. Thank you!
Cheryl
---
My mother-in-law loves, loves, loves her planter! Thank you so much!
Theresa (TX) Aug. 2010
---
The wedding gift crock stole the show at the shower! Thank you for your quick delivery and the beautiful design! She loved it!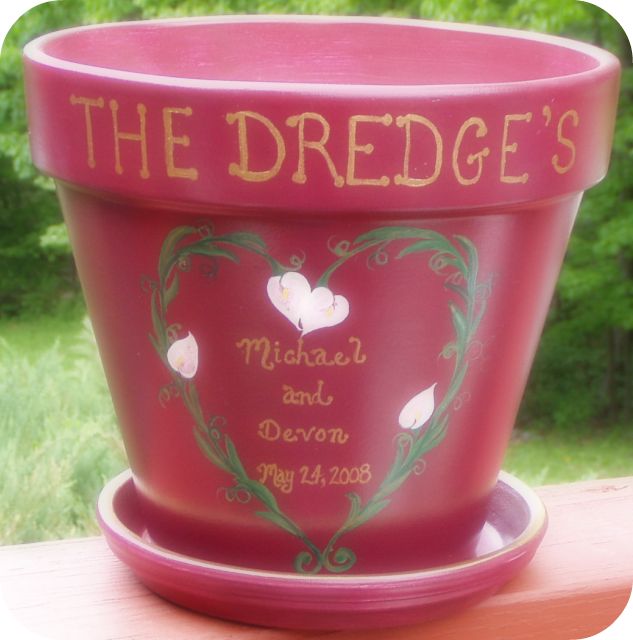 Sue
---
My son's teachers loved their holiday gifts! Thank you so much for getting them to me in plenty of time!
Karen
---
My Boss loved his planter! Thank you for getting my design exactly how I wanted it!
Sherry
---
I had admired your beautiful "Birdie Fantasy" planter. My 14 year-old daughter surprised me with it for my birthday! I didn't think she was even paying attention when I was practically drooling all over the computer screen. She wouldn't tell me how she pulled it off without my husband's help (or credit card), but did tell me that she contacted you through e-mail and that you took the time to work with her. Thank you sooooo much! You helped my daughter Make my Millenium!
Brenda
---
I really adore Kathy's work. Every detail was obviously lovingly created...as she puts it...magical. I needed something with dragonflies, and poof! She had them, and they were absolutely stunning!!! Thank you, Kathy for your gift of talent and love. God bless you always!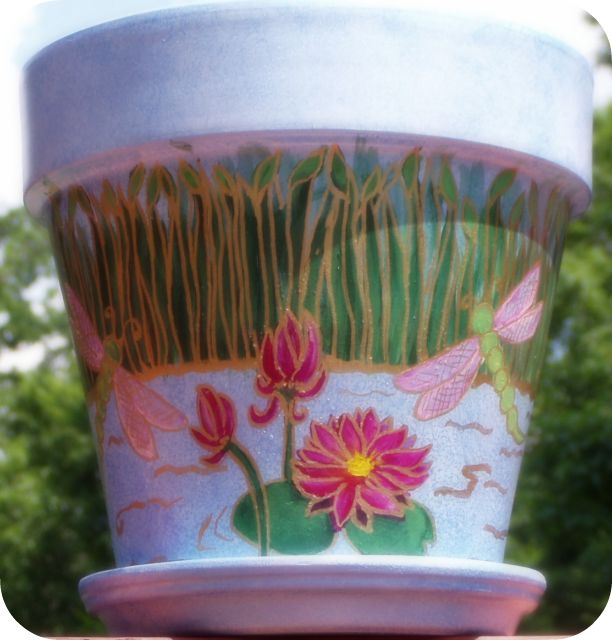 Francesca (CT) Feb. 2010
---