Mailboxes
***Gift Certificates now available!***
Does your mailbox look like this???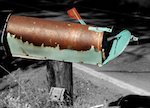 or this??
.. or worse, boring, like this?
Wouldn't you love something like this, instead?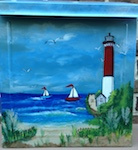 Or this?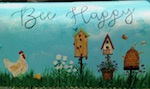 or this?
You don't have to have the ugliest, boring-est mailbox on the block!! I create cool, sophisticated, pretty, hand-painted designs on mailboxes. Some are my own creations, others are my customers great ideas! Give yourself, and your mailman a smile every day with a custom mailbox that reflects your personality.
Mailboxes are completely hand painted by me, and are one of a kind. Flag included with all mailboxes.

PLEASE NOTE: Pieces are made to order. Please allow 1-2 weeks for delivery.
If you need your piece in a hurry, please e-mail me at: Kathy@touchedbyfantasy.com. or Call: 610-657-9869
**Click on the photos to see more views of each piece**
| | | | |
| --- | --- | --- | --- |
| | | | |
| | | | |
All my mailboxes include a "thank you" to the mail carrier each day they open the box to deliver the mail to us. Mailboxes are sealed with three coats of sealer to ensure protection from fading or wear no matter what the weather.
Please e-mail me if you have a design you would like to create on a mailbox: Kathy@TouchedbyFantasy.com.

I wish you a blessed and magical day!
"The purpose of life, is to have a life of purpose" -- Robert Byrne
**Customers within 20 mile radius of Allentown, PA, please e-mail me (Kathy@TouchedbyFantasy.com) for direct shipping/handling alternatives**
http://www.facebook.com/TouchedbyFantasy/
http://www.facebook.com/lovingtouchconnection/
https://www.etsy.com/shop/TouchedbyFantasy
Payments by Money Orders are welcome: PO Box 153, Macungie, PA 18062